Welcome from the Chief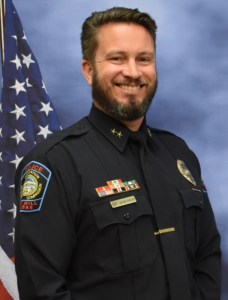 Thank you for taking interest in the Rose Hill Police Department, in Rose Hill, Kansas.  We are a full service, 24 hour a day resource for our residents and anyone who passes through needing assistance.  Our employees exhibit the highest level of integrity, compassion, and empathy and support areas of patrol, investigations, and special services.  Through our relationships with surrounding agencies and members of the community we strive to provide a safe place for our citizens to live.  For three straight years Rose Hill has been listed as one of the ten safest cities in Kansas, a distinction we work hard to maintain.
Please take some time to navigate our site as there are several interactive aspects which are constantly updated.  You will find information regarding Open Records requests, fingerprinting services, and vacation watch requests.  Additionally, employment information can be located here as well as concerns regarding animal control and citizen compliment/complaint forms and many more.  The Rose Hill Police Department takes our service to this community seriously and we constantly seek out more efficient processes.
I have devoted my life to service of the Country and my communities which started in the United States Marine Corps at 17 years old.  During my time in service, I rose to squad leader for a machine gun section in an infantry company.  After my time in the military, I began my studies and graduated with honors from Wichita State University with a degree in political science.  In 2007, I began my career with the Butler County Sheriff's Office, was eventually promoted to Sergeant and was also a member of the SWAT team.  In 2018, I took a newly created position as Lieutenant with the Rose Hill Police Department.  Since, we have upgraded our technology, are in the process of updating our policies and procedures and increased our staffing numbers by securing a federal hiring grant to improve our community services.  After assuming the responsibility of Chief of Police, I have become a mentor for the Kansas Hispanic Education Development Foundation, which strives to give students mentorship in their chosen career path.  Additionally, I have begun training with Advance Kansas. Their goal is to increase Diversity, Equity and Inclusion through the interactive efforts of industry and community leaders throughout the State of Kansas.
The Rose Hill Police Department is honored to serve and protect your lives and property.  Thank you for taking the time to read this message and get to know your public servants.
Sincerely,
Chief Taylor Parlier
Rose Hill Police Department
About Us
The Rose Hill Police Department operates under three divisions: Field Services Division, Investigations/Community Services Division and Support Services Division.  Staffing includes eleven full-time commissioned police officers, one part-time commissioned police officer, one Police/Court Clerk and one Reserve Officers.  Our police department strongly emphasizes a community policing philosophy and are committed to providing quality law enforcement services.  The Rose Hill Police Department serves a population of approximately 4,000 residents.
Mission Statement
The Rose Hill Police Department is committed to the protection of life; property and public peace through training, professionalism, integrity and hard work. We continually work to build partnerships to further our mission to make Rose Hill the safest community possible.
Proudly serving the Rose Hill Community through Dedication, Integrity and Compassion.