Unveiling ceremony on August 22, 6:30 pm at City Hall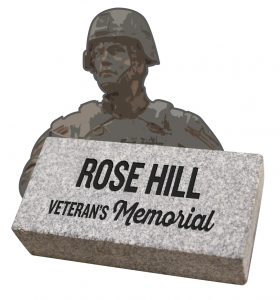 Honor a veteran at the Rose Hill Area Veterans Memorial! Add their name as a permanent reminder of brave service to our country. We would like to celebrate the unveiling of a new bronze statue for the memorial by recognizing those who have served our country. The veterans' names will be engraved on pavers and added to the memorial.
Pavers are $100 each. These will list the name, rank, and war or years of service of the veteran. The pavers will be displayed along with the new statue at the Rose Hill Veterans Memorial. Anyone who purchases a paver will be invited to the exclusive unveiling ceremony.
Any honorably discharged United States military veteran or current active-duty United States military member in good standing can be honored through a donation to the Rose Hill Area Veterans Memorial. Verification of Service, in the form of DD214/DD215/Orders, is preferred. The honoree or a relative must have been or currently be a resident of Rose Hill, Butler County, or any county adjoining Butler County, or have attended elementary, middle, or high school in the area. The City recognizes that in many instances donors may not possess or cannot obtain military service documentation. In all instances, every donor is required to attest to the accuracy and truthfulness of the information he or she provides concerning the honoree. All donations to the Rose Hill Memorial will be for the exclusive use by the City of Rose Hill and the Rose Hill Chamber of Commerce to maintain the memorial.
The Rose Hill Veterans Memorial is a site located in front of the City of Rose Hill City Hall at 125 W. Rosewood. The site includes flags, engraved bricks, landscaping, and we are excited to announce a new bronze sculpture. If the site reaches capacity for honorees, additional capacity may be added at the discretion of the City of Rose Hill. We thank our private donors for funding the new sculpture.
If you are interested in making a donation on behalf of a veteran, please fill out this form. You can mail your completed forms, donation, and verification to the City of Rose Hill using the address listed on the bottom of the form. If you have any questions about the program or application, reach out to us at (316) 776-2712.
Thank you for honoring our Rose Hill veterans!